Who are the Lions Clubs International and how do you join?
Frequently Asked Questions
Lions Clubs International is the world's largest service club organization, with a network of over one million men and women in more than 200 countries and geographical locations. We serve where we live, as well as globally, and we have fun doing it.
‍
What services do Lions provide?
Though well known for its successful initiatives in vision health, Lions service is as diverse as its members. We meet all sorts of needs, from assisting the elderly, to helping victims of natural disasters, to helping youth gain leadership skills.

What percent of my donation is actually used to help people?
Lions give 100 percent of community donation profits to vision and hearing, and community causes. All club administrative costs are borne by club members through their dues and member donations.

How are Lions making a difference?
Lions make a difference every day everywhere. Whether by organizing a pancake breakfast fundraiser or building a wheelchair ramp for someone in need, we are a hands-on organization.

What do Lions do?
Lions meet the needs of our communities and the world, ranging from assisting the visually impaired and working with local youth, to medical missions and disaster relief.

How are Lions relevant to today's world?
Since 1917, Lions have met the needs in their communities and continued to improve the areas in which they live.  As long as there are needs around the world, we will work to meet those needs.

How do I become a Lion?
If you are interested in becoming a Lion, contact us.

Are there women Lions?
Yes. Women are the single fastest growing segment of Lions.

As in other community organizations, is the membership of Lions declining?
No. Lions membership is increasing.  Programs such as Family Clubs, Leo Clubs, Campus Lions Clubs and New Century Lions Clubs are helping us adapt to meet the growing needs of the world around us.

I would like to volunteer in my community, but why should I do so as a Lion?
Lions meet the needs of those in their own communities as well as around the world and we have fun doing it. Working together locally and internationally, the worldwide network of Lions has vastly more resources and is able to accomplish much more than individuals and small groups working alone.
If you would like to join the Conway Area Lions Club, simply download and complete the Membership Application below. You can either email the completed application to: conwayarealionsclub @gmail.com or mail it to The Conway Area Lions Club P.O. Box 168 Conway, NH 03818. You may also come to one of monthly meetings, which are on the first Wednesday of each month, by contacting our Club President Alicia Gildea at 508-934-9663. Please Note: due to the ongoing Covid-19 pandemic and restrictions, meetings will be virtual until further notice.
‍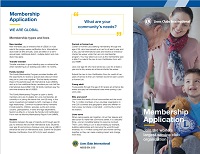 *The one-time initial $25 membership fee will be waived for new members until June 30, 2022!
*The annual membership fees for the Conway Area Lions Club of $65 a year for individuals and $100 for 2 family members still apply
Download Membership Application